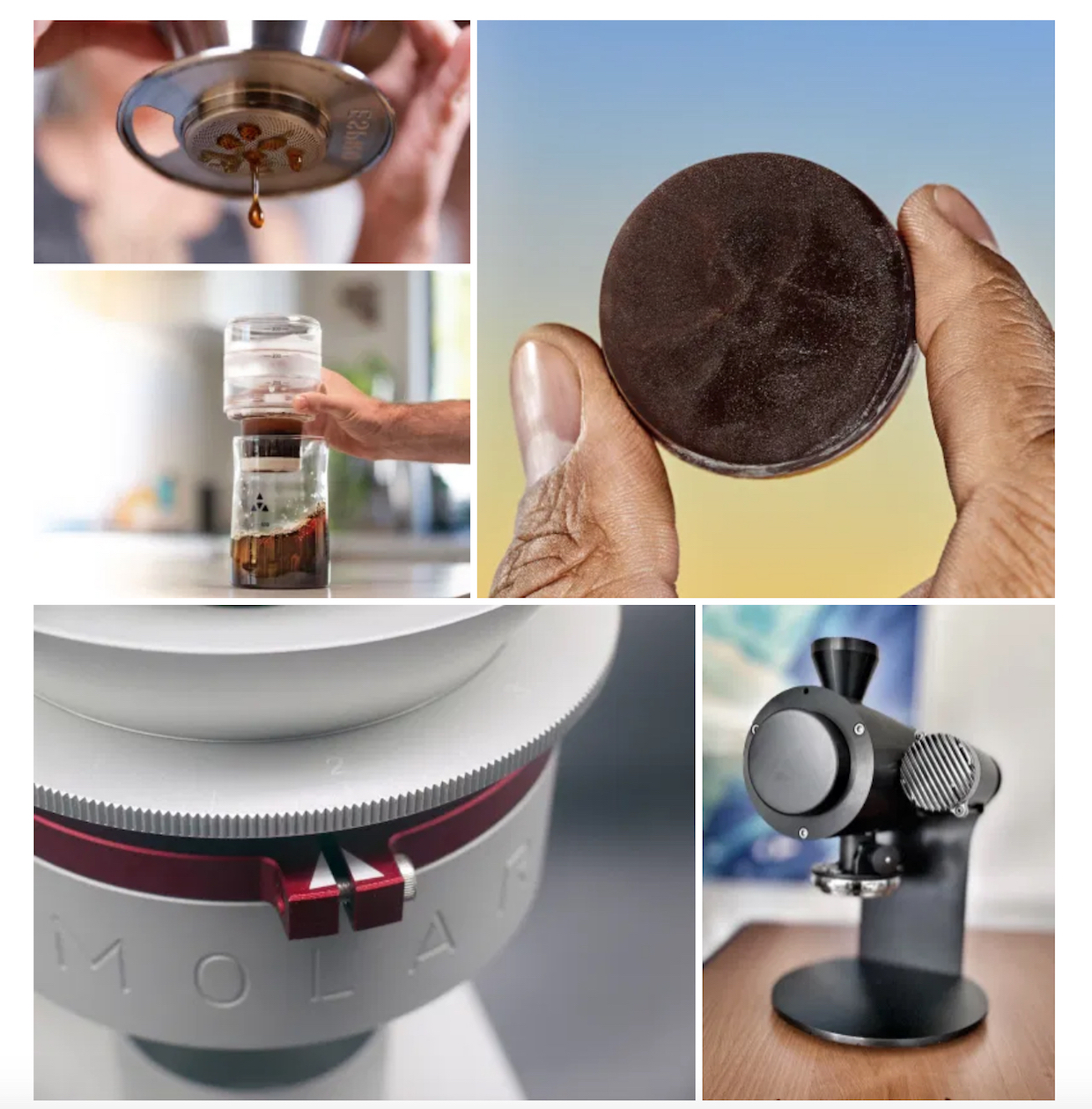 Through the smoke and haze from the smoldering crater of 2020, we can look back to find a plethora of coffee products designed to help people improve their coffee at home.
This year, two seemingly divergent patterns emerged. On one hand, a number of impressive high-end coffee grinders vied for consumers' attention. On the other hand, a swath of relatively inexpensive new brewers focused on ease of use. The common thread between these trends is that they both pitch shortcuts to excellence in coffee.
In the field of high-end grinders, some fascinating designs for home countertops were unveiled by boutique manufacturers such as Titus, LeverCraft and Molar, while VSSL and Orphan Espresso debuted manual grinders focused on pairing portability with quality. Meanwhile, Fellow and Goat Story each broke new ground, so to speak, with handy advanced features and adventurous aesthetics.
It may take a bit of nerd-ery to fully appreciate what makes each machine remarkable, though none of them are particularly hard to use: Turn a crank, hit a button, brew better coffee. As for that last step, a number of new gadgets this year either upgraded familiar brew methods or focused on removing user-related variables.
The Wacaco Pipamoka and Trinity Zero presented innovative methods that fall into the latter category. The 9Barista brewer reinvented the classic stovetop moka, and the Delter Cold Drip freed the user from the need to monitor the drip rate.
Here's a look back at the new consumer coffee products that helped make coffee a little better, and 2020 a little less bad:
Wacaco's New Travel Brewer Pipamoka Unscrews Coffee
The Hong Kong-based company best known for its handheld pump-action espresso travel brewers has revealed a new twist on pressurized immersion brewing with the Pipamoka, a device that creates a vacuum by pulling a sealed and threaded column upwards, causing a coffee chamber fixed at the bottom of the column to travel up with it, through hot water.
The Ode Brew Grinder from Fellow Cruises Past $1 Million on Kickstarter
For its inaugural foray into motorized mechanics, Fellow's goal was a lofty one: to offer both grind- and build-quality on par with professional cafe equipment while maintaining a kitchen-friendly friendly footprint and an accessible price. In many cafes, Fellow's Stagg kettles are used to apply water to coffee beds ground by massive, towering Mahlkönig EK43 commercial grinders.
9Barista Ushers In a New Generation of Actual Stovetop Espresso
Building upon the domestic-friendly promise of the little steam brewers is the 9Barista brewer, which has emerged from the United Kingdom. Bearing some resemblance to a classic moka pot, the 9Barista introduces a dual-boiler design that actually yields an espresso akin to what's made on commercial coffee bars, according to its makers.
Espro Entering the Pourover Field this Spring with Bloom
Designed in collaboration with professional barista Kaley Gann, the brewer incorporates some of the ideas put forth by Gann in her own custom brewer, the KG90, which she used to help win the 2019 United States Brewers Cup.
Orphan Espresso Rolls Out The Fixie Travel Grinder
The intrepid Idaho-based manual grinder maker Orphan Espresso just launched a new product that is focused more than ever on portability. The manual grinder called the Fixie Travel Coffee Grinder weighs 331 grams (about 11.6 ounces), features 47-mm steel conical burrs and ships with a Tyvek travel bag.
Hiroia Plans to Bring the Samantha Automated Pourover Brewer to the US
Like the Smart 7, the Samantha allows users to program and store different water-dispensing routines for single and multi-cup batches of drip coffee. Whereas the Smart 7 originally offered only its built-in screen for programming locally, the Samantha leans more heavily on an app and its IoT capabilities.
The Sonic Dutch Supersonic S1 Accelerates Cold Brew with Sound Power
Brewing coffee quickly always sounds like a great idea. For Sonic Dutch Korea, the great idea for cold-brewing coffee quickly is sound.
Molar Takes a Bite Out of the High-End Single-Dose Grinder Market
People seeking premium, top-end single-dose coffee grinding equipment have a new option to sink their teeth into, as the Molar Grinder company has emerged from Taiwan with two existing machines and a third on the way.
Austin-Based LeverCraft Coffee Unveils the Ultra Grinder
The machine cuts a minimalist footprint around a precision servo motor that spins 98-mm flat SSP burrs in a user-adjustable range from 100 to 1,500 RPM. Machine parts are made from 6061 T6 aluminum alloy, within which a SUS304 hardened stainless steel lower burr carrier rides with less than .01-mm runout, according to the company, suggesting an exceptionally even and consistent grind with proper alignment.
Lights, Kettle, Action: The PourX Oura Scale Offers Light-Based Guidance
The PourX Oura scale, designed by the team behind the Jimmy Scale now sold by Hiroia, features an LED-loaded exterior edge that glows different colors and patterns to guide users through various stages of brewing.
Japan's Cafec Launches Roast-Specific Paper Filters
A coffee equipment company based in Japan has added new layers of precision to the design and composition of paper coffee filters. Late last year, longtime manual brewing equipment maker Cafec rolled out a new series of cone-shaped paper filters designed for pairings with coffees roasted to particular levels.
New Roaster BeanBon Aims to Be On Countertops This Fall
A new app-integrated appliance for roasting small batches of coffee has it sights on home and cafe countertops this fall. Created by the Taiwan-based company Avigo, the small fluid-bed roasting system called BeanBon comes with a green coffee store and a profile-sharing system.
Delter Cold Drip Brewer Approaches the Market with Next-Level Steadiness
The new slow-drip — a.k.a. Dutch or Kyoto-style — cold brew device is designed to solve a longstanding barrier, according to Delter Coffee, that has kept the slow-drip method from achieving the set-it-and-forget-it ease to which it has always seemed so close. Its solution is to take things one level at a time.
Kickstarter Clears the Way for the All-Glass Pure Over Brewer
Making a clear case for transparency in brewing, a new device called the Pure Over is on its way into production, offering filter-free drip coffee from a brewer composed entirely of clear borosilicate glass.
Outdoor Gear Maker VSSL Launches Coffee Grinder for Peak Portability
The Java, which has been ripping through Kickstarter to the tune of nearly $170,000 thus far, contains a uniquely aligned manual coffee grinding system centered on 38-millimeter stainless steel conical burrs.
Baratza Launches Baratzagear Line of Grinder Accessories
The three new Baratza accessories include an Aeropress holder for the Sette series of grinders, a color accent kit for Baratza Encore machines, and a single-dose hopper compatible with all Baratza grinders outside the Sette line.
The Hibear Coffee/Cocktail Adventure Flask Claws Through Kickstarter
The top portion of the insulated Hibear flask detaches and flips over to act as a pourover brewer, complete with flow-promoting ridges on its inner side. Meanwhile, removable parts that nest inside provide cocktail shaker and strainer functionality.
New Pressurized Coffee Container Called Stor is a Gas
Composed of a walnut base and stainless steel cylinder and lid, the Stor blocks all light and utilizes a patent-pending system for keeping contents sealed and pressurized with inert gas, allowing users to continually return their perishable items "to their 'never opened' state," after each use, according to the company.
High-End German Grinder Maker Titus Grinding Unveils The Nautilus
Online sales are now open for shipments from periodic small-batch production runs of the new machine. There are currently two different sets of 98-mm flat burrs available, as well as two available machine heights. The Nautilus can also be inverted without any additional parts, for users to mount the grinder on a ceiling or strong shelf.
GE Appliances Enlists US Brewers Champ to Launch Café Specialty Drip Coffee Maker
The new wifi-connected, SCA-certified, variable-temperature, 10-cup brewer is the kickoff product for a line of approximately two dozen new home kitchen devices slated to follow in the year to come under the company's Café brand (styled by the company as CAFÉ).
Airscape Maker Planetary Design Revives the Flask Brewer
The innovative Flask coffee brewer has been rescued from development purgatory, finding a new home with Planetary Design's new Ethoz brand for an official launch next month.
Trinity Coffee Lightens Up With the Trinity Zero Brewer
The palm-size, thumb-pressured brewer makes what company founder and director Mark Folker describes as a happy medium between espresso and drip.
Now Flowing: The Osma Hot or Cold Recirculating Brewer
A small California-based team of engineers and designers is launching a portable coffee and tea brewing system called Osma that is capable of quickly creating either hot- or cold-brewed beverages through an innovative liquid recirculation system.
Goat Story Unveils the Arco Manual/Electric Grinder
The Arco is essentially a premium, compact manual coffee grinder that has the option of locking onto the Arco Power Dock that transforms it into a stationary electric grinder for home users. As of this writing, more than 1,000 backers of the Arco Kickstarter campaign have pledged more than $380,000.
With Truly Innovative Frozen Capsules, Cometeer Achieves Liftoff
The capsules can be brewed through capsule-compatible single-cup coffee brewing machines, or customers can simply open the capsule and plop the puck into  6-8 ounces of hot water manually, for a cup of joe with an average TDS of 1.4%. Alternatively, the capsule's contents can be melted at room temperature and then poured over ice, into cold water or something milky.