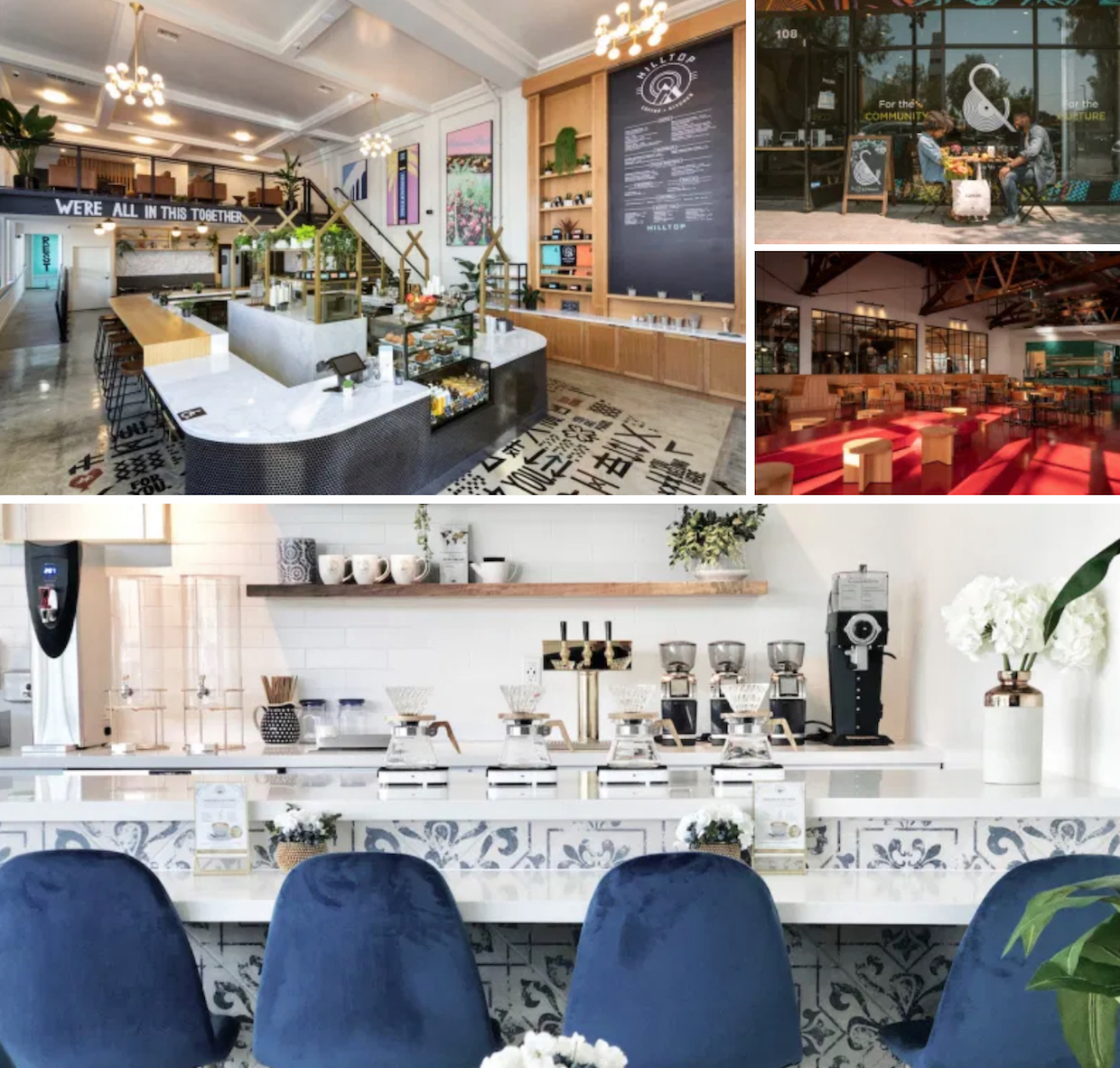 Through fires both literal and figurative in the incredibly hard year now drawing to a close, coffee businesses throughout the western United States showed a remarkable ability to keep on keepin' on.
When the COVID-19 pandemic caused shortages of common grocery items, coffee companies were quick to jump into the provisions business, selling staples like flour, grains and produce alongside coffee and prepared foods. In California, the first state to announce statewide stay-at-home orders, Go Get Em Tiger and Sightglass Coffee were two relatively high-profile examples of this.
Given the favorable weather in coastal and southwestern regions or the outdoorsy spirit of the Rockies, new and existing coffee shops were also able to lean more heavily upon outdoor seating and curbside service as social-distancing and airflow became sought-after amenities.
As we look back at our coverage of coffee shops that opened in the western U.S. this year, we find an inspiring number of new shops owned and/or operated by women and people of color.
Whether providing direct connections to coffee producers or launching in support of the Black Lives Matter movement, LGBTQ+ initiatives or other important causes, the mosaic of motivations driving new coffee shops into business in 2020 should provide plenty of hope for progress in 2021 and beyond.
Here are 20 new coffee shops that opened out West this year:
World Traveler Coffee Pins New Cafe to the Map in Folsom, California
A busy floral pattern of tiles bursts from the front of the bar under the white marble counter opposite a long, live-edge wood community table lined with rustic wood-topped stools under a row of dangling Edison bulbs. Various gold and white accents pop throughout the shop, while blue velvet booths and chairs by white tables echo the blue and white striped umbrellas over the exterior sidewalk seating.
Go Get Em Tiger Clawing Out Business in New Shop with GGET Pantry
The new shop's artfully rounded wooden seating and tables, soothing sea foam green walls, its countertop of cascading layers of stone and its dazzling tile floors will all be awaiting patrons when better times return.
Coffee Meets Hygge at Danish-Inspired Café Hagen in Seattle
Café Hagen owner Maria Beck, who also owns Venture Coffee in Northwest Seattle, shared with Daily Coffee News her own interpretation of the Danish concept of hygge, which is often equated with the English-language concept of coziness.
Despite the Swirling Winds, Voyager Craft Coffee Opens Third Bay Area Shop
Buildout within the new space on The Alameda just off the Santa Clara University campus took roughly eight months to complete. Custom woodwork around the shop includes a curved bar that connects to the waterfall edge of the main bar, and bench and table seating.
A Sightglass to Behold: The SF Company Opens Expansive LA Flagship, Offers Provisions
Sightglass owners Jerad and Justin Morrison's hard work with a talented new staff in opening an expansive and attractive roastery and restaurant location in Los Angeles has at last come to fruition — though not at all as first envisioned.
Stereoscope Coffee Adds Depth to Orange County with Second Shop
Even through masks and plexiglass barriers, customers at Stereoscope Coffee Co.'s second retail shop in Newport Beach, California, are treated to a deep sensory excursion.
San Francisco's Noe Valley Coffee Spins Laundromat into Noe Cafe
After launching roughly a decade ago as a hybrid serving Blue Bottle Coffee amidst the din of tumbling garments, the team behind the Noe Café began roasting under the name Noe Valley Coffee in 2014. A gleaming white Diedrich IR5 roaster now supports that effort from behind a walnut standing-height bar, giving visitors a spectacle of production.
Harken Coffee Calls in Vancouver BC's Japantown Neighborhood
Lauded barista and former Audabe Coffee proprietor Eldric Stuart has opened a new shop in the Japantown neighborhood of Vancouver, British Columbia, called Harken Coffee, with house-roasted coffees a menu of fresh and colorful Japanese-inspired breakfast and lunch foods.
In Tacoma, Campfire Coffee Welcomes All Into Its Great Indoors
As a Black family of frequent recreational campers that now also runs a coffee business, the Henrys are keenly aware of the fact that Black and other people of color are as rare around actual campfires as they are in the specialty coffee industry.
'All In This Together' at the New Hilltop Coffee + Kitchen in Los Angeles
In Inglewood, the shop has managed to stay open throughout the ongoing coronavirus, serving customers through takeout and delivery, and maintaining the welcoming approach that owners Ajay Relan, Yonnie Hagos and new partner for the second shop, acclaimed actor Issa Rae, set out to create.
With Colombian Fare and Fresh Roasts, Take It Easy in Las Vegas
Molina said the interior color scheme is intended to promote serenity, with warm pinks, soft greys and hearty bronze that come together in a mural of the Las Vegas valley at sunset. Said Molina, "We have a lot of pinkish sunsets over here, and it is one of the things we find most beautiful about Las Vegas."
Libations Flow from the Liberation Coffee House at LA's LGBT Center
Led by L.A. creative architecture firm ORA and inspired by the work of artist Keith Haring, the interior of the shop is bathed in reds, oranges, yellows and greens reflective of the LGBTQ pride flag, while shear fabric panels along the windows were selected to create a color gradient that recalls California sunsets.
Farmer-Owned Pachamama Coffee Opens Shop in Davis, California
"If we did not invest in our people prior to the pandemic, we may not be so lucky today," Tremain said. "Pachamama has always focused on selling coffee beans direct to consumer[s], so we already had a lot of folks coming to us for their at-home beans. In March, we lowered the price of our 5-pound bulk bags to $50 each at the cafes, which has proved to be a popular move. The bean business has grown significantly at our cafes."
In Portland, Sandino Brothers Coffee Widens the Bridge to Nicaragua
The new location deepens the connection between the Rose City and the Sandino family coffee farm in Nicaragua, where the shop's coffees are grown and processed.
Coffeeholic House Brings the Latest in Vietnamese Coffee to Seattle
Within the 900-square-foot cafe, the young couple behind Coffeeholic House have created a menu of Vietnamese phin-brewed specialty drinks along with traditional espresso-based drinks, using specialty-grade Vietnamese arabica and robusta coffee sourced from Brooklyn, New York's Nguyen Coffee Supply.
Denver's Corvus Coffee Goes Big In Littleton with Bakery and Roaster Club
Denver-based Corvus Coffee has opened its third and most ambitious location to date, not in the heart of the city where specialty coffee is entrenched, but in the Denver suburb of Littleton.
From Mexico with Motorcycles, Midnight Animal Appears in San Diego
These reflect the Mexican heritage of Midnight Animal Owner Christian Ardel, whose vision and sensibilities are built into the 5,000-square-foot mixed-use space in which Midnight Animal lives.
Now Roasting, Sip & Sonder Builds Community Through Coffee in Inglewood
A two-woman team of attorneys is now arguing on behalf of community, Black culture and fresh, high-quality coffee in Inglewood, California, through their coffee business, Sip & Sonder.
With a Scooter Bar Setup, Cafablanca Caters to the Cause
A new mobile coffee company with progressive aims and a donation-heavy business model called Cafablanca is rolling around Southern California, providing pick-me-ups to protesters and nonprofit workers while giving away drinks to others in need.
In Denver's RiNo, Lekker Coffee Helps Save Rhinos
Anyone concerned that cause-oriented coffee shops are a dying breed will be pleased to discover Lekker Coffee, a new mother-daughter-owned cafe in Denver that donates 10% of profits to the care and protection of endangered South African rhinos. The spirit and focus of the shop fit right in, of course, in Denver's RiNo (River North Art District) neighborhood.