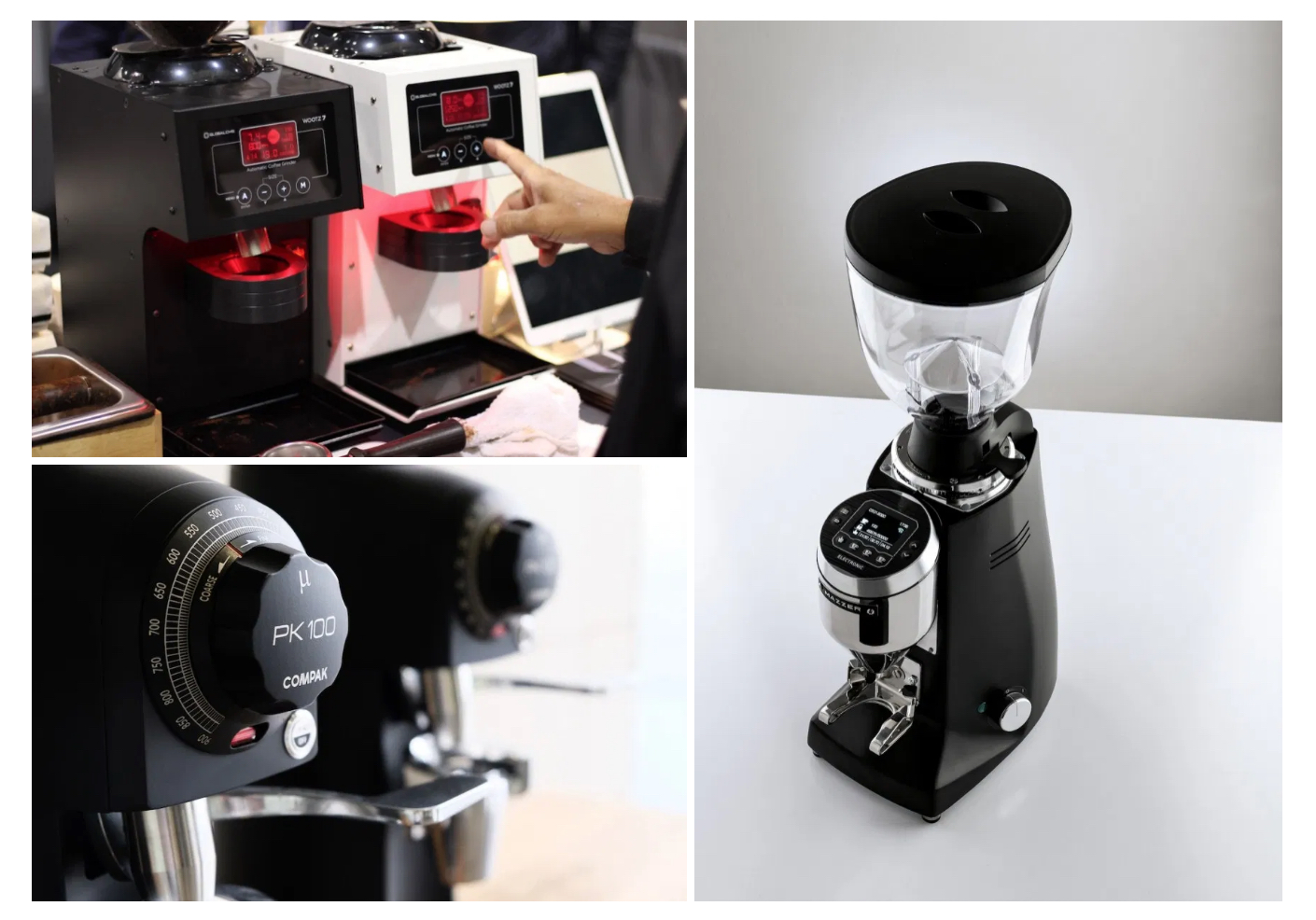 For commercial coffee businesses on the lookout for new equipment, 2019 has truly been the Year of the Grinder. Whether or not any of the advanced new generation of bean breakers will tick every box on David Schomer's wish list, though, remains to be seen.
New ground was also broken at the extraction station as well, both on top of and beneath the counter. In the under-counter department, 2019 saw the first entry to the market by a manufacturer based in Mexico, a futuristic oblong-éclair-shaped machine from Australia, and new features added to systems by established players Modbar and Marco Beverage Systems. Older-fashioned counter-toppers also saw new tech from the likes of German startup Manument, young Seattle stalwart Mavam, classic brands Gaggia Milano, La San Marco and more.
The biggest tectonic plate-shifter in 2019's commercial gear-o-sphere, though, was without a doubt La Marzocco, a longstanding industry titan that seems to be pulling out all the stops, all at once. Its KB90 machine broke new ground in barista ergonomics; its concerted push into new grinder technology appears nothing short of revolutionary (more from DCN soon); and its commingling with Modbar continues to bear fruit under the counter. The company has indicated that 2020 will be another big year, with updates to existing machines, a new automatic milk steamer and other goodies on the way.
Here's a look back at some of the shiny new objects that brightened the pages of Daily Coffee News in 2019:
Grinders, Keepers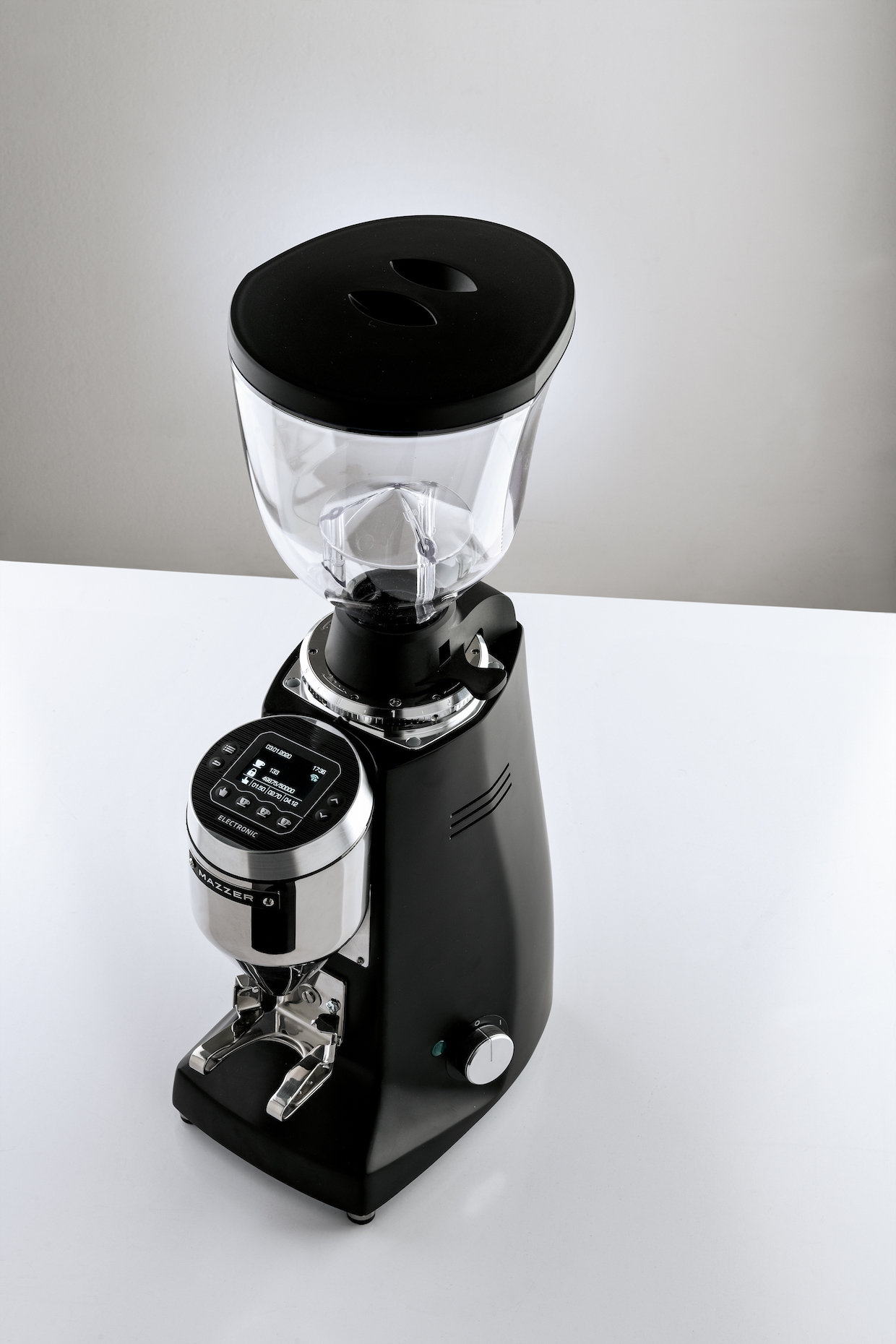 Grinder Maker Mazzer Unveils a Big Upgrade with the Major V
Following the recent releases of new models ZM, Kold S and the updated Robur S grinders, Italian grinder manufacturer Mazzer is continuing its streak by applying some fresh technology to its longstanding espresso workhorse, the Mazzer Major. At the World of Coffee event in Berlin earlier this summer, the company rolled out the Mazzer Major V, a model that adds new capabilities to what was already the fastest machine among its flat burr models.
From South Korea, The Wootz 7 Grinder Makes Powerful US Debut
The grinder, named after an ancient form of high-carbon crucible steel pioneered in South India, features a three-phase variable-speed motor, a digital grind setting memory and self-calibration system, and a rotating in-basket grind distribution mechanism.
Mahlkönig E65S Espresso Grinder is the First of the Next Generation
In keeping with the endless forward march of technology and design, German commercial grinder maker Mahlkönig has officially moved on into what it's calling the "Next Generation" of its grinder lineup.
La Marzocco Getting Back Into Grinders with the Swift and Swan
Italian espresso machine giant La Marzocco has announced a renewed focus on grinders that will result in two major new products — the home-focused Swift Mini and the commercial model Swan — expected to be released over the next 12 months.
Compak Launches Stylish PK Line, Including the Single-Dose PK100
After first unveiling its PK product line in 2017, grinder manufacturer Compak continued to refine the machines, which finally this year have been brought to the international market with fresh new designs and capabilities in the high-end commercial coffee category.
Innovative Slingshot Grinder Heads to Market, Followed by Kilo Automatic Tamper
Slingshot Technology, maker of the innovative volumetric Slingshot grinder, has forged new manufacturing and distribution partnerships for spreading its products into European markets.
Entering its 100th Year, Eureka Launching Three New Grinders
The first two Giglio Oro models focus on improved quietness, high productivity and new technology designed to lower retention. A third machine highlights the company's 100th Anniversary with a new commemorative "Eureka 1920" logo. All three machines were revealed at the HOST Milan coffee and hospitality trade show earlier this year.
Espresso Machines
La Marzocco Unveils the KB90, Featuring an Ergonomic Portafilter Design
Named in equal honor of the company's recent 90th birthday and for former LM International CEO and current Chairman of the Board Kent Bakke, the machine's two key innovations focus on the group head. They are an ergonomically beneficial design called Straight-In, and an auto-purging and self-cleaning system called Steam Flush.
Historic Brand Gaggia Milano Revived with New Commercial Line
Coffee equipment conglomerate Evoca Group is ringing in the 80th anniversary of the patent filed by Achille Gaggia, founder of the classic brand Gaggia Milano. Evoca acquired the brand license roughly two years ago, and has just rolled out a line of machines intended to spring the iconic Italian brand back to stylish, functional relevance in a new era of technology and consumption.
La San Marco Launches Six-Headed Lever Monster, the V6
During rush times at high-volume bars, two- and three-group espresso machines can easily max out on drink production speed. At the same time, cafes with U-shaped bars or island bars with espresso machines on their own workstations inevitably must decide which customers get a view of the action and which are blocked by what's often a plain wall-like case.
Italian espresso machine manufacturer La San Marco has launched a beast of a machine addressing both of these concerns: The LSM V6.
Espresso Machine Innovator Mavam Unveils the Mach 2 and 'Cupping Gun'
Seattle-based commercial espresso machine maker Mavam has launched the Mach 2, with inventive steam- and water-activation features among other technological advancements that build off Mavam's on-counter Mach 1.
Mavam has also for the first time taken aim at the back of the house, introducing the Cupping Gun, a tool designed for roasters and shops with cupping labs.
Striking Espresso Machine Francesca Greets the World of Coffee
A striking new manual lever espresso machine called the Francesca made its public debut at the World of Coffee event in Berlin earlier this month. The machine is the first product from the Stuttgart, Germany-based start-up manufacturing brand Manument.
Under the Counter
New and Improved Modbar Steam Module Makes Global Launch
While a standalone steam component has always existed as part of the complete Modbar commercial espresso system, Modbar Co-Founder Aric Forbing told Daily Coffee News that the new Steam machine builds upon the old one in several key ways. Among them is an upgraded heater that is 1,100 watts stronger than the original.
The Aremde Nexus One Offers Fascinating Form with Under-Counter Function
Brisbane-based Aremde built its Nexus One machine with the goal of enhancing the social interactions between baristas and customers by reducing the above-counter equipment to an airy, minimalist see-through structure. The boilers, pumps and other guts are hidden down under, as it were. Unlike the periscoping group heads involved with under under-counter espresso systems such as Modbar or Mavam, the Nexus One maintains a traditional espresso machine outline, albeit with a window built in.
With Friia, Beverage Systems Maker Marco Adds Cold and Fizz to the Mix
Friia is a similar-looking, 3-button, counter-mounted fountain that connects to equipment installed out of sight beneath the counter. But rather than dispense water at three different precise warm or hot temperatures, the Friia system is capable of dispensing one hot, one cold and one sparkling beverage, all from its minimalist, brushed-metal spout with LED-illuminated buttons.
Mexican-Born Espresso System Esprofesso Launches at SCA Expo
Tijuana, Mexico-based brand Esprofesso launched its first product, a barista-centric under-counter espresso machine, at the SCA Expo in Boston today. Designed and manufactured in Mexico, the Esprofesso machine is the creation of Fabian Sánchez, the 2003 barista champion of Mexico and owner of 16 coffee shops.
The Batch, The Cold, The Robots, and More
Übermilk Stretches, Heats And Dispenses Art-Ready Milk On Demand
For nearly every espresso drink, there's a milk component that ought to match the quality and consistency of the coffee. With a focus squarely on that challenge, a new machine called Übermilk is designed to heat milk automatically to baristas' specifications before dispensing it in programmed quantities.
Truebird Swoops Into New York with Robotic Specialty Coffee Kiosks
As specialty coffee robots created by California's Cafe X and Texas-based Briggo continue their forward, automated marches, a question has remained: Could the surly and spirited humans of old New York embrace a joe by droid? A new company called Truebird has fluttered in to find out.
South Korea's Dal.komm Greatly Extends the Reach of Robot Baristas
The robotization of specialty coffee has increased by dozens of arm lengths with the proliferation of a new robot barista system from South Korean coffee chain Dal.komm Coffee.
With New Commercial Machine, Curtis Gets To the Essence of Cold Brew
California-based commercial foodservice beverage system manufacturer Wilbur Curtis has taken a deep step into the cold coffee arena with the Essence, a new machine that marks a significant expansion to the company's existing line of otherwise passive cold brew systems.
Elemental Beverage Co. on Fire with Snapchiller and High-End RTD Coffee Line
A prototype on-demand flash-chilling machine for beverages that was initially revealed at Coffee Fest Portland in 2017 by MIT graduate David M. Dussault and licensed Q Grader Ryan McDonnell has been given a name: The Snapchiller.
Third Wave Water Launches Tethys System For Commercial Coffee Settings
Third Wave Water has launched a new inline water system, called Tethys, for specialty coffee cafes.
From Tokyo, The Furumai Machine is Ready to Dance On the World Stage
The Furumai, by recently founded Tokyo-based coffee equipment design and manufacturing brand Tree Field, is a towering single-cup brewer that offers a transparent brew chamber wherein vacuum pressure and turbulence occur. However, unlike its relatively austere predecessor, the Furumai is also a bean-to-cup super-automatic brewer with three hoppers, a single-dose portal and a built-in double-grinder that grinds each dose twice before brewing.
Huskee is Rolling Out its Reusable-Cup-Swapping Program for Cafes
The Australian-born startup reusable cup maker Huskee — whose cups are made from "up to" 50% coffee husk collected during green coffee production — has been rolling out its HuskeeSwap program through a network of participating cafe chains.
Swiss Batch Brewer Tone Touch 02 Sneaks In Some Brews on the Side
There's the barista in a band, or the roaster who does a little consulting here and there. With so many creative and multitalented people in the specialty coffee industry, side hustles are commonplace. A new piece of coffee equipment called the Touch 02 by Swiss manufacturer Tone Kaffeemaschinen AG has a couple side hustles of its own.
Voga Coffee Launches Base Model Cyclops with Feature-Based Pricing
Bay Area-based Voga Coffee has announced a flexible new feature-based pricing structure that eases coffee shop owners' access to its innovative Ground Control Cyclops immersion vacuum batch brewers.
The company has just launched sales of a paired-down Base Model for $5,950. Meanwhile, at the higher end of the Ground Control feature range, a larger pump to expand the machine's brewing capabilities now comes as an available option.